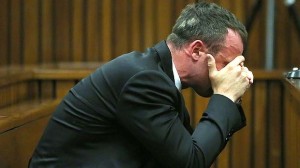 The trial of Oscar Pistorius, the South African Paralympic champion tried for the murder of his girlfriend Reeva Steenkamp in February 2013, resumed this morning.
The champion burst into tears, apologizing to the victim's family.
"Madam Justice, I would have the opportunity … to apologize to the family"
The judge interrupted him to ask him to speak more clearly.
"I apologize, I will speak louder. I would like to apologize (…) Since this tragedy occurred, I never stopped thinking about the family. I wake up every morning and they are the first people I think of. I cannot imagine the pain, grief and distress that I have caused to this family. I was just trying to protect Reeva. I want people to know she was loved when she went to bed that night.
And revealed: "I woke up at night with the smell of blood."
[dailymotion]http://www.dailymotion.com/video/x1mi2o7_oscar-pistorius-en-larmes-a-son-proces_news#from=embediframe[/dailymotion]