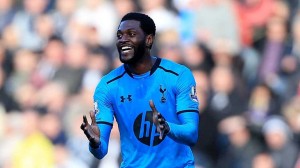 Tim Sherwood may let his joy explode again. In the absence of his serial scorer, Tottenham had once during their last 4 matches won. Another victory Monday in a game shifted of the 32nd day of the Premier League against Sunderland 5-1 with Emmanuel Adebayor on fire.
Back after a hamstring injury that has sidelined him for 3 games, the Togolese international has not waited long before finding the net.
While Sunderland took the lead in the 17th minute, the former Monaco restored parity in the 28th. After the break, Harry Kane puts Spurs ahead before Adebayor scored his 3rd double of the season after a shot released by Mannone, the goalie of the Black Cats. Previously, Christian Eriksen had made it 3-1. But in a broken defense of Sunderland, Sigurdsson added a 5th goal.
Sunderland goes straight to the Championship. Adebayor now counts 10 goals in the Premier League.
[youtube]http://www.youtube.com/watch?v=eyBvNYth9iA[/youtube]
[youtube]http://www.youtube.com/watch?v=FRz6mlR7swE[/youtube]
[youtube]http://www.youtube.com/watch?v=BJtVsEfNBTE[/youtube]
[youtube]http://www.youtube.com/watch?v=Q7kE-mbzlvc[/youtube]