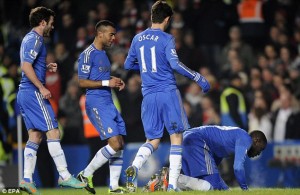 What a game! What suspense! PSG could not stand up tall in front of Chelsea in the framework of the quarterfinals second leg of Champions League. Winners 3-1 during the first leg at the Parc des Princes, Parisians were enjoying a beautiful advantage to be maintained at Stamford Bridge. But, Jose Mourinho, The Special One made ones again proof of his coaching supremacy in Europe as he inflicted a bitter and unforgettable 2-0 slap to the French capital club to seal Champions League semifinal berth.
The Portuguese manager, who genuinely has warned Laurent Blanc and his crew over this return leg, can let his joy explode now. The man of the match was no one but Senegalese Demba Ba, the author of the second and victorious strike of Chelsea.
The former Newcastle scorer entered the game at a few minutes to the end of the clash to make to practise a 3-attacker system with Torres and Eto'o. Consequently, Mourinho has won his bet.
Earlier in the first half, Schurrle off the bench in replacement of Eden Hazard opened the scoring for Chelsea. That goal undoubtedly reassured hope to the Stamford Bridge owners.
[youtube]http://www.youtube.com/watch?v=W6Hs3qLQCrw[/youtube]