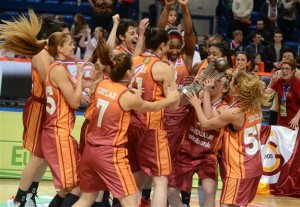 Unpublished final Final 8 of the Euroleague women between Galatasaray Odeabank and Fenerbahçe turned to the advantage of teammates of Sancho Lyttle, 58-69.
For the first time in the history, the Istanbul derby is invited in the final of the Euroleague. And in this Turkish face to face, played in the hall of Yekaterinburg, bronze medalist, Fenerbahçe will long regret his start of the match.
Completely overwhelmed in the first quarter time, Cappie Pondexter (18 pts, 6 rebounds, 3 wt) and her band conceded a bitter 7-26.
Despite the small form of Isabelle Yacoubou (2 points, 4 rebounds), Fernerbahçe embarks on an improbable rise and dominate the next two quarters (22-16 and 15-11 Q2 Q3). But driven by Spaniard Sancho Lyttle (19 points and 12 rebounds), Galatasaray took good control of the last quarter time and win their first title of European Champion, 58-69.