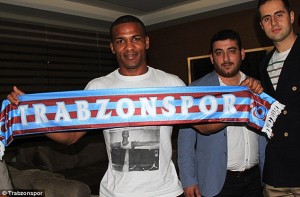 Career end for Florent Malouda? Things seem to be the case. Arrived last summer from Chelsea, the former French international already thinks of quitting the Turkish club. In an interview granted to our colleagues from Footmercato.net, the attacker confided he was eager get freed from his a year-contract still remaining to be played under the colors of his employers.
"I signed in Turkey in order the recover from my off season at Chelsea. I do not think I'll remain at Trabzonspor next year. I am currently in touch with my president to consider a deal termination. I seize the end of this season to prepare for next season," said the player who even so does not intend to join the Ligue 1.
Would Malouda like to be linked to Chateauroux where he has become member of the leading staff a few days ago? The shortest future will tell.
Aged 33, the ex-Lyon scorer netted 5 times over 19 appearances in the Turkish league this season.