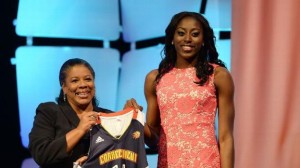 Chiney Ogwumike was, as advertised, featured in the first position of the WNBA Draft 2014. Identified in the past as the younger sister of strong winger of Los Angeles Sparks Nneka Ogwumike, the first pick in the draft in 2012 of Nigerian origin has made a name this season flying over the university championship.
Main artisan of the Stanford season record (33 win, 4 losses), Chiney will make her classes within the WNBA Connecticut Sun. "It's just unreal to be a first choice to fans of Connecticut, my family and my sister," said Chiney Ogwumike.
Pac -12 Player of the Year, among other honors that marked his huge season, Chiney, with this position of the first choice of the draft, Ogwumike puts the family in the history of major North American sports by becoming the first sisters to be first pick in the draft. Before them, only brothers Payton and Eli Manning of the NFL had this privilege.
Chiney Ogwumike's highlights, a 36 points and 14 rebounds match!
[youtube]http://www.youtube.com/watch?v=QSldtAZuC1Q[/youtube]