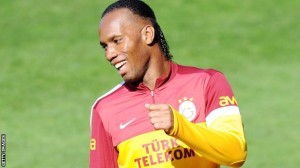 This is information from L'Equipe: Didier Drogba could leave Turkey for Serie A. According to the French website, AS Roma have recently asked about the situation of the Ivorian striker of Galatasaray regarding the mercato summer.
According L'Equipe, the club of Rudi Garcia was recently initiated an approach to the surroundings of Didier Drogba to know his situation and his plans for the future. A recruitment that would strengthen the attack of the club.
Drogba, who comes out of contract with Galatasaray, cannot be ignored, especially since he is available at zero cost transfer. Sportingly, the Ivorian striker showed again this year in the Champions League that he still has the European level. Against Juventus in the group stage, his presence was crucial. Enough to catch the eye of big Italian clubs.
In addition to the Roma, some transalpine media had reported last week a concrete offer from Juventus. According to a source close to the case, Juve would have started no serious movement towards the Drogba clan in recent weeks. The Bianconeri leaders have certainly always appreciated the quality of the Ivorian striker.
In January 2013, Juventus had also been on the verge to sign Drogba, while the latter was from Shanghai. But it seems that for the moment there is nothing concrete from the Turin side. A contract extension of Drogba at Galatasaray would however be in the study.