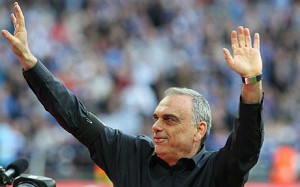 Considered one of the most experienced coaches in the world, Avram Grant has expressed his point of view on Cafonline. In the menu of this interview, the next FIFA World Cup and more specifically the participation of five African representatives.
For him the African teams have everything required to win a World Cup. But he puts much more emphasis on Côte d' Ivoire, Ghana and Nigeria.
"I am convinced that the African teams will produce excellent results in the World Cup this summer in Brazil. I sincerely believe that with the highest moral, Côte d' Ivoire, Ghana and Nigeria could surpass the quarterfinals and write a new page in the history of African football, "says the Israeli technician.
While noting that no European team has so far managed to establish itself in a world Cup held in South America, the former coach of Iraq believes that the 2014 edition may be good for Africa. But, he said, the teams of the continent must arm themselves with "the necessary technical expertise" to compete at the highest level.
And even if the Cup is not bestowed to an African representative this year, Grant believes it will come sooner or later on the continent.
"The day will come when the world champion will be African. Besides, I do not understand why this is not already given the immense potential of football in this continent. The key to success will come, as far as I am concerned, mind has often been lacking in the crucial moments, especially at the end of meetings. But this is something that can easily change," suggested the former Chelsea coach, who admits fancying Nigerian Stephen Keshi.