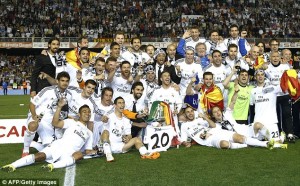 Real Madrid pocketed their first trophy of the season. Cristiano Ronaldo in the stands due to injury, the Merengues have held their position against FC Barcelona in the final of the Copa del Rey (2-1). Carlo Ancelotti can gloat.
Everything happened very quickly in this classico with a first goal scored at the 11th minute of play. At the edge of offside, Di Maria defied Pinto. FC Barcelona beat in the last two matches with a resounding failure against Granada in La Liga, are trying to ring the revolt. In vain until the end of the first 45 minutes where Lionel Messi was nonexistent.
After the break, the Catalans enjoy numerous occasions missed by opponents to equalize. Bartra propels a Xavi corner in the goal of Casillas.
But the game was far from being over. The man of the match will be Gareth Bale who takes a lightning speed before the young Bartra before staggering Pinto. Barca could not take up the challenge.
See all goals
[youtube]http://www.youtube.com/watch?v=1XCTNPaG0nE[/youtube]
[youtube]http://www.youtube.com/watch?v=H0mspUdYrMs[/youtube]
[youtube]http://www.youtube.com/watch?v=Tv0540ZOLIY[/youtube]