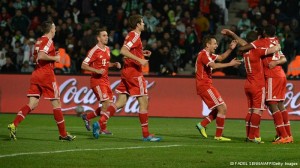 Bayern Munich dream again of a tripled. Already champion of Germany and in the race for the Champions League (semi-finals against Real Madrid), the Bavarians qualified Tuesday for the final of the National Cup.
Pep Guardiola's men have slaughtered Kaiserslautern (D2 club) in the semifinals. A score of 5-1 that allows them to reach the final against Borussia Dortmund who dominated Wolfsburg 2-0 Monday during the first semifinal.
Bayern imposed themselves thanks to goals from Schweinsteiger, Kroos, Müller on penalty, Mandzukic and Götze.
[dailymotion]http://www.dailymotion.com/video/x1ovyc1_mandzukic-goal-bayern-munchen-vs-kaiserslautern-4-1-16-04-14_sport[/dailymotion]
[dailymotion]http://www.dailymotion.com/video/x1ovot2_toni-kroos-goal-2-0-bayern-munchen-vs-kaiserslautern-16-04-2014_sport[/dailymotion]