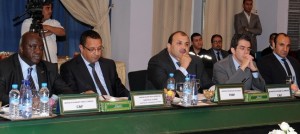 A mission of CAF is currently in Morocco to inspect the four cities that will host matches of the African Cup of Nations that the country is set to host from January 17 to February 07 2015.
Agadir, Marrakech, Rabat and Tangier are the cities chosen to host the meetings. Stadiums, training facilities and accommodation establishments will be scrutinized by inspectors.
The Committee then attended the presentation of the upgrade project to a national sport infrastructure. A project both ambitious and realistic that will allow the capital of the Kingdom to have a sports infrastructure that meets international standards.