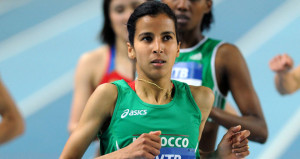 The return on the athletics tracks of Mariem Alaoui Selsouli is not for now. The Moroccan athlete specialist of the 1500 m saw her doping ban upheld by the Court of Arbitration for Sport (CAS).
CAS has decided to follow the decision of the Royal Moroccan Federation of Athletics (FRMA). Suspended by the FRMA a few days before the London Olympics in 2012, after testing positive for a diuretic, Mariem Alaoui Selsouli (29 years) is deprived of any competition for 8 years.
CAS decision, taken on April 14, was released by the Moroccan Federation via a statement on its website: "The Court of Arbitration for Sport confirmed April 14, 2014 the decision of the Royal Moroccan Athletics Federation to suspend athlete Mariem Alaoui Selsouli from any athletic competition for a period of 8 years from 25 July 2012 due to her positive test at Areva athletics meeting in Paris on 6/07/2012."
She had the best performance of the year at the meeting which earned her the penalty with a time of 3 min 56 sec 15/100e in the 1500m. With this suspension confirmed by the Moroccan athlete, silver medalist at the world indoor Istanbul 2012, will resume competition in July 2018.
Already in 2009, Mariem Alaoui Selsouli tested positive for EPO during the World Championships in Berlin. A control that cost her 2 years absent from tracks.