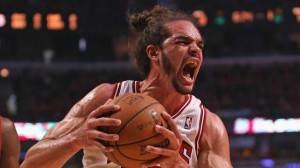 It is after an election that Joakim Noah became the best defender of the year in the NBA. 100 of the 125 American journalists on the jury gave the first place in this vote to the Chicago Bulls pivot.
Jooks thus collected 555 points in 1125 as possible far ahead of Roy Hibbert (166 points, 8 first places) and DeAndre Jordan (121 points, 8 first places). The Franco- Cameroonian succeeds Marc Gasol in the charts.
The 7th season in the North American basketball Championship member of the All- NBA Defensive Team in 2013 is quite exceptional. The strongest player in the NBA, Joakim Noah took a different dimension. Compelled to act without franchise leader Derrick Rose and Luol Deng later, he gradually increased his volume of play, blackening almost every stat lines to each output of the franchise in Illinois.
Author of 4 triple doubles this season (making him the second player with this stat line), he is the 6th rebounder in the league with 11.3 taken and the 12th blocker with 1.5 cons, and the third interceptor among pivots with 1.2 interceptions per game. "The defense helps to win and winning is the most important," said the most altruistic pivot who still shares his performance.
"This award is not for me, even if I am the one who will walk away with it. It is for the team."
[youtube]http://www.youtube.com/watch?v=Su5gLkRjM_w[/youtube]