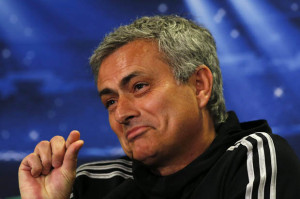 As Africa Sports.com reported, Chelsea probably has a foot in the final of the Champions League after the goalless draw obtained in the field of Atletico Madrid last night.
The English club have a big advantage for the return leg.
José Mourinho did not hide his satisfaction:
"The goal was to work as a team. My players were very brave, very strong. They deserve this result that allows us to remain in the race. It was a very tactical game and nobody could find flaw. My point was not to send the ball too forward because Atlético always press hard," said The Special One.
I was not seeking the 0-0. The objective was not to concede a goal. And perhaps to score. After it is better to leave with a 0-0 than losing, eh? But hey, I'd rather win 5-0. We will give everything to win this C1. Besides, I 'd much turn this weekend in the Premier League against Liverpool. I ask permission from the owner of the club. In any case, we frustrated Atletico. This is because usually they are the ones that frustrate everyone," he added.