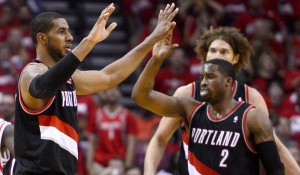 The Toyota Center has experienced this night a beautiful interior duel between LaMarcus Aldridge and Dwight Howard in Game 2 of the series of playoffs. Led by a huge Aldridge (43 points, 8 rebounds, 3 blocks), Portland left Houston on a second victory, 105-112.
From the start of this Game 2, Howard and Aldridge owned the scoring. In the wake of D-12 (19 points in the first quarter time), the Rockets dominated the first 12 minutes (31-23). But the interior All Star of Rip City felt like in his garden as he cracked 23 points scored in the first period allowing his franchise to stay in touch at the break with 53 everywhere.
Author of 25 points before returning to the locker room, Howard (32 points, 14 rebounds) decreased in speed in the second half and Houston started flowing slowly. Mo Williams and Dorell Wright, 28 points accumulated off the bench were well supported by Aldridge (16 points in the third QT) before Damian Lillard (18 points, 11 assists) destroyed hang Texans on the free throw line.
Nicolas Batum (6 points, 6 assists and 4 rebounds) and his Blazers buddies will have the opportunity to conclude the series in Oregon and therefore qualify for the second round of the playoffs for the first time since 2000. Led 2 – 0, the Rockets have an appointment with history on Friday for Game 3, namely snatching qualification just as did the generation of Hakeem Olajuwon (1993-1994) after losing the first two games.
[youtube]http://www.youtube.com/watch?v=v-FOnOWSQw0[/youtube]