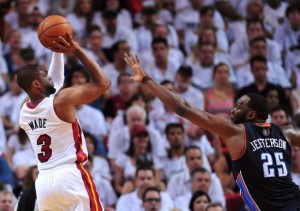 Miami chains up a second victory over Charlotte and leads 2-0 in the series of the playoffs. Despite pain in the plantar fascia, Al Jefferson, as he announced, took his place within the combative Bobcats bowed 101-97.
The strong franchise of North Carolina winger made a black copy of 18 points and 13 rebounds after finding the way in the second period to adapt to his disability. But thanks to LeBron James (32 points 8 /17, 8 assists, 6 rebounds and 4 steals) and Chris Bosh (20 points 8/11 and 5 rebounds), the Heat, who in addition to a good defense knew on Big Al (9/23 in shooting) has contained Cats who always found resources through Michael Kidd – Gilchrist (22 points, 10 rebounds), Kemba Walker ( 16 points, 8 assists ) to stay in their sneakers like in the last quarter time.
Led by 14 points (91-77) at six minutes of the end of the game, Charlotte returns to -3 at 102 seconds of the buzzer. Before his second interception in the game on the last possession of the Bobcats, Dwyane Wade (15 points, 6 rebounds) and LeBron James will ensure the free throw line to avoid their duty to know the fate of San Antonio, Indiana, and Oklahoma City (note they lost a home game).
Far from being ridiculous on the floor of double NBA champions, Charlotte can expect a different outcome in Game 3 at Time Warner Cable Arena. Bismack Biyombo has not played on the decision of Steve Clifford.
[youtube]http://www.youtube.com/watch?v=7aJGqyDuWXU[/youtube]