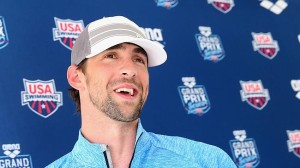 Almost two years after retiring from the sport, the American swimmer Michael Phelps is back into the competition. The most successful swimmer in Olympic history will plunge again Thursday. This will be at the Grand Prix of Mesa (Arizona). However, he does not actually know if he will participate in the 2016 Olympic Games in Rio.
"I do not know if I will be in Rio. Only time will tell. Nobody forces me to return, I do (this return to competition) for myself. All I can say is that I enjoy a lot in training, I take great pleasure, I smile all the time, it's also because I'm in a great band, very competitive very talented, even if I am the grandfather, said the 28-year swimmer from Philadelphia.
I really did nothing for 18 months to two years. But there was something missing, I lacked swimming, it's as simple as that, he has explained to justify his return in the basins. Phelps had indeed retired after the London Games. I just want to run, find the mental state we have when we are in competition, that's what I loved the most in my career. I have an idea of the clock I want to do, but I do not tell you," he concluded.