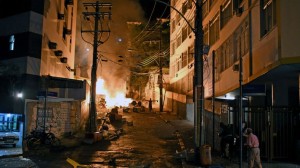 This is the point on the World Cup today with our partner Catch Brasil.com.
Rio is on fire after the death Tuesday night of the dancer of the favela Pavao – Pavãozinho, Douglas Rafael da Silva Pereira. The latter, who was just 25 years old, was killed by police after being mistaken for a drug dealer, according to Brazilian media.
He took refuge in a school in the favela that enjoyed a peacemaker Police Unit (UPP) in December 2009 to secure the city for the World Cup (June 12-July 13).
A statement said: "The circumstances of the death of Douglas are investigated. The report indicates that on-site injuries of Douglas are compatible with a death caused by a fall. Witnesses and residents will be invited to testify. It started around 17:30. There was smoke everywhere, shooting in the street and people running to return home. Many Bope trucks, (elite police) just get in the favela Pavao – Pavãozinho. We are stuck home, we could not get out."
Helicopters flew over the area where a trafficker nicknamed "Pitbull" was sought.
According to Didier Arino, Protourisme director, reason should prevail. The passion of football will be the strongest…
"All the hotels are already booked. This will force all the tourists to be more cautious on site. However, the violence could have an impact on attendance after the Cup, especially from September to October when the tourist season will start there. Seeing what is happening in Rio, some people might not want to leave. There are nationalities more sensitive than others to this type of various facts. This is the case of the French, Swiss or American.
In Brazil, there are fears for one's safety everywhere. There should be nothing on one's body. Luxury eyewear, camera shows … they can be stolen there! When I go there, I even put off my covenant to risk nothing. There are two kinds of police to keep peace: the species of "cowboys" who shoot along their way and the tourist police could not do anything. But faced with riots like those that occurred in Copacabana, neither one nor the other could do nothing.
During the World Cup, Brazilians will all be in front of their television sets. We must not forget that they all love football. Except premature elimination of Brazil, tensions should therefore disappear. But it is undeniable that pickpockets will always bother in the streets, despite the safety plan in place in several cities."