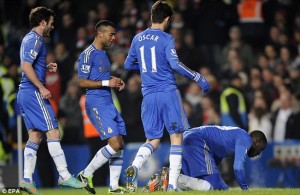 Jose Mourinho is the sole man who can do it. After 11 wins in a row in the league and 17 games unbeaten, Liverpool fell in their own garden at Anfield this Sunday in a meeting counting for the 36th day of the Premier League. Steven Gerard and his men were defeated 2-0.
It is Senegal's Demba Ba who opened the scoring in stoppage time of the first half (45 +3). 1-0 for the Blues at the break.
As if the goals expected stoppage time to come, the second will be scored in injury time of the second period by Willian (90 +3).
At two days of the end of the season, the suspense remains total since Liverpool has only two points ahead of the Blues of José Mourinho.
Manchester City, who currently faces Crystal Palace, may return to only three units of the sealing in case of success. At the moment, the Sky Blues lead 2-0 thanks to a goal from Dzeko and Yaya Toure.
Check out the two goals of Chelsea:
[youtube]http://www.youtube.com/watch?v=DKE0Kq5TgdA[/youtube]
[youtube]http://www.youtube.com/watch?v=qMe4SdncAsc[/youtube]