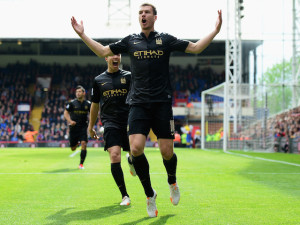 Manchester City of Yaya Toure did not miss the opportunity to get closer to the head of the Premier League standings with two days remaining.
After the victory of Chelsea at Liverpool (2-0), the crew of Manuel Pellegrini imposed themselves on the same score at Crystal Palace on Sunday to mark the 36th day of the English league. Both goals for Sky Blues are signed by Dzeko (4th) and Touré (43).
The Mancunian club returns now to three units adrift of Reds in the standings with a game in hand still to play and a better goal difference (+8 compared with Liverpool). The title is still playable for Yaya Toure.
Here's the video of the goal of Yaya Toure. Interesting!
[youtube]https://www.youtube.com/watch?v=_2e_5-LZQRY[/youtube]