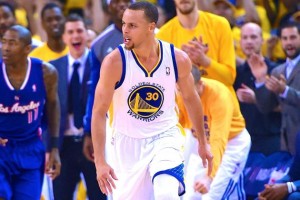 Under the lead of Stephen Curry, Golden state equates to 2 wins everywhere against the Los Angeles Clippers. The Champion of the peaceful division in the center of a controversy, bowed last night at the Oracle Arena, 118-97.
After a protest against racist statements by their owner, Donald Sterling in the margin of this Game 4, Chris Paul (16 pts, 5 rebounds, 6 assists) and co unconsciously lifted the feet in this game, like DeAndre Jordan, who took only one shot in the 25th minute but could not find the target.
Warriors in the wake of Steph Curry (33 pts, 7 rebounds, 9 assits) and Andre Iguodala (22 points, 9 assists) did not wait long to take off, 39-24 after the first quarter and then 66-48 at the break. Jordan Crawford (26 points off the bench), in particular, attempted to assist CP3 and Blake Griffin (21 pts, 6 rebounds, 3 wt) in scoring but the damage was done. Golden State equates to 2 wins everywhere.
Next match Tuesday at Staples Center.
[youtube]https://www.youtube.com/watch?v=HUyTiBivad0[/youtube]