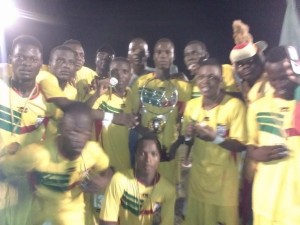 Under-17 Squirrels of Benin are the first to register their name in the history of the President Cup. This U17soccer competition held in Lomé (Togo) since April 19 reached its climax on Sunday. Benin won 2-1 before Mali at the end a breathtaking final.
Two best formations of the tournament, Benin and Mali regaled the audience of the municipal stadium in Lomé on that day of celebration of the Independence of Togo. Very quickly, Mali got rid of Togo (4-0) in the semifinals. But Moussa Diakité misses a penalty kick at the 15th minute of play. This has tipped the meeting and Benin finds its teeth. However no goals until getting into cloakroom.
Back from the break, Benin squeezed on the accelerator and gets a penalty at its turn. Gaston Houngbedji transformed it to open the scoring. Mali tries to respond but neither Aly Malie nor Mohamed Haider again sparkling finds the fault. But at 7 minutes of the match, Mahamadou Dianka defies Sheyi Damilola. Now the extension.
And it is Benin who proved beefier by scoring in the 115th minute by Aaron Ibilola, best scorer of the competition with 3 achievements. Final score 2-1. Explosion of joy of Squirrels and their leaders. First trophy for the country of Stephane Sessegnon since their independence, according to some of their officials.
In the match for 3rd place, Nigeria disposed of Togo 3-0 with achievements of Kehinde Ayinde, Orji Okonkwo and Jack Ipalibo.