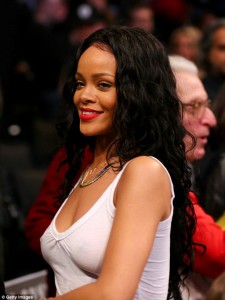 Rihanna makes the buzz since yesterday!
Passionate by basketball, she attended an NBA game between the Brooklyn Nets and Toronto Raptors, with a top that provoked many reactions…
I must say she had forgotten to put a bra.
For the record, the Brooklyn Nets beat the Toronto Raptors (102-98) at the "Barclays Center".
Check out!
[youtube]https://www.youtube.com/watch?v=EAc4zHEDd7o[/youtube]