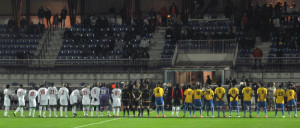 No coach, no friendly match. This is in the nutshell the reason advanced by Pierre Alain Mouguengui, the new boss of the FEGAFOOT to justify the cancellation of the friendly match scheduled for May 21 in Libreville against Senegal. On Rfm, the former FIFA referee says his team will not perform until they get a new coach.
The Panthers are orphans of a technician since the dismissal of Portuguese Pualo Duarte at the end of the FIFA World Cup 2014. Though a call for applications was launched, there is still no manager in Gabon.
This information will undoubtedly not please manager Alain Giresse of Senegal's Lions of Teranga who thought of seizing this opportunity to test his crew before the start of qualifiers for the Afcon 2015 in September.
Senegal is in Group G alongside Egypt and Tunisia in particular.