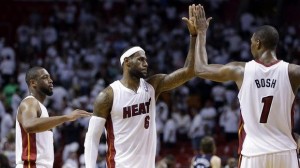 Not surprisingly, Miami conclude their series of the first round of playoffs that pitted them to Charlotte. Heat swept Bobcats and qualified for the semifinals of the conference 98-109.
Deprived of their master trump, Al Jefferson (put to rest due to his injury), it is with Bismack Biyombo in the five major Cats that begins this Game 4. Baking and mill, Kemba Walker (29 points, 5 rebounds, 5 assists and 3 blocks ) allows his franchise to dominate the first quarter time on 27-26, and thus regain the locker room with the lead score, 54-52.
In the third quarter time, a heat of concern flew on the double champions after a collision of LeBron James with the knee of Biyombo. King James takes his leg but will not go further than the bench. After this little warning, the winger takes his place on the floor and out the total in both attack and defense and makes a new copy of 30 units: 31 points, 9 assists, 7 rebounds, 3 steals and 1 con. Miami has then widened the gap on a long distance shot of Norris Cole (13 points off the bench), 13 points ahead at the start of the last quarter time, 71-84. This last act is just a formality for the men of Erik Spoelstra who imposed themselves 98-109. Chris Bosh scored 17 points, Dwyane Wade 15.
For this postseason last game of Cats, Biyombo has cracked 7 points, 8 rebounds and 1 assist. Charlotte bowed for the 20th consecutive time to the Heat, who won the series 4-0.
Floridians are the first qualified for the semi -finals and the only conference that will address this unbeaten phase.