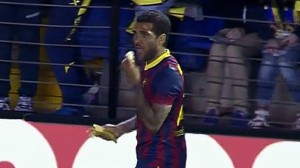 The reaction of Villareal leaders was immediate. The supporter who offended Dani Alves, by throwing him a banana – a highly racist gesture – was inflicted a severe ban.
The gesture of Dani Alves, who picked and tasted the bananas that he has been thrown on Sunday is making the buzz around the world, with feedback from all directions, including that of the Brazilian President Dilma Rousseff. Meanwhile, the perpetrator of racism has been identified by the yellow submarine.
In addition, the club said via a statement on its official website that the individual was banned for life from the stadium.
"With the security forces and the invaluable assistance of the public, the club has already identified the author and decided to withdraw his subscription permanently prohibiting his access to the Madrigal stadium."