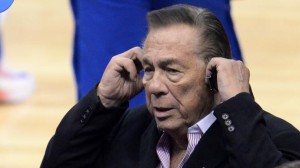 Donald Sterling disbarred for life in the NBA. The commissioner of the North American basketball championship Adam Silver delivered on Tuesday, the lifetime ban of the Los Angeles Clippers owner convicted of racist statements towards Magic Johnson in a private conversation.
The survey conducted for voice authentication of the author certifies that it is that of Sterling which was also met by the NBA boss. He is fined $ 2.5 million. This decision was expected by all; from the employees of Sterling Doc Rivers to the highest peak in the United States. But the punishment does not stop there.
Indeed, Donald Sterling, first owner inflicted a lifetime ban in the NBA, can no longer attend NBA games, trainings and any activity related to the NBA.
The league will now force him to sell his franchise. To do this, Adam Silver has to convince 75% of franchise owners to vote his exclusion.
This lifetime ban on the oldest NBA franchise owner (note, he is at the head of Clippers since 1981) was unanimously welcomed. Indirectly involved in this case, Magic Johnson welcomed firmness of the NBA boss.
Commissioner Silver showed great leadership in banning LA Clippers owner Donald Sterling for life.

— Earvin Magic Johnson (@MagicJohnson) April 29, 2014
Current and former NBA players now know that in Commissioner Adam Silver we have a great leader leading our league. — Earvin Magic Johnson (@MagicJohnson) April 29, 2014
Thanks @CP3 #DocRivers @KingJames @TheJetOnTNT @thereval @msnbc family @oprah & Adam Silver for your support! #WEAREONE #AbetterNBAforall!

— Earvin Magic Johnson (@MagicJohnson) April 29, 2014