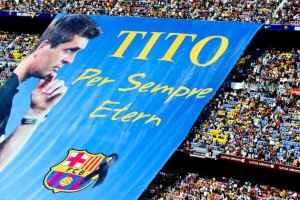 Barcelona players continued their homage to their former coach Tito Vilanova. For their first match at the Camp Nou since his death in opposition to Getafe (2-2) Saturday, players wore a jersey with a written Catalan message.
"Tito, forever eternal." In a statement, the club had said yesterday that it would be "a farewell action shared between the players of the first team and the public."
A video tribute aired before kickoff under the ovation of supporters. The public of the Camp Nou have then deployed during the Barça anthem a "tifo" (mosaic or large banner) with the face of the technician, before a minute of silence.
Check the atmosphere as if you were there!
[youtube]https://www.youtube.com/watch?v=3IWMQieMCkc[/youtube]