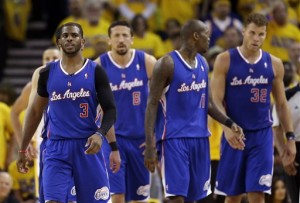 Los Angeles Clippers will be in the second round of the playoffs for the third time in 38 years. Lob City won Game 7, and kicks Golden State out of the competition, 126-121.
Things had started badly for Doc Rivers' men who conceded the first quarter time (22-32) and found themselves led at the break, 56-64. In the second half, Chris Paul (22 pts, 14 assists), JJ Redick and Matt Barnes, initiate a series of 24-9 which puts the Clippers in front, 83-77. Warriors thanks to Stephen Curry (33 pts, 9 wt) reduce the gap at the start of the last act, 87-84.
This last quarter time has been highly competitive for Golden State who regained the with a 0-8 initiated by Jordan Crawford (89-92). But CP3 and co respond with a 12-2 (103-96). Andre Iguodala (14 pts, 7 rebounds, 3 wt) feeds the crossover, 106-107 at 4 minutes 30 seconds remaining. The Staples Center is turned on. DeAndre Jordan (15 pts, 18 rebounds) and Blake Griffin (24 pts, 5 rebounds, 6 wt) strung brilliant actions between cons, dunk, circus shot for a decisive 8-2 giving 5 points ahead to Clippers at 75 seconds of the end. Facing a huge determination of Warriors (7 players with 120 points and more) LA Clippers ensure victory over the foul line to the delight of their coach.
"I wanted this game, we actually needed it so much… My excitement was not for me but for the fans, so that they rejoice, they enjoy … These last two weeks have seemed to be two months and I needed to be proud, smile, cry, let me go," said Doc Rivers.
But the head coach will enjoy his progress for so long "as they replay right on Monday." And for the Sixth Man of the Year, Jamal Crawford (22 points) is his teammates; the opponent is none other than the Thunder of Kevin Durant.