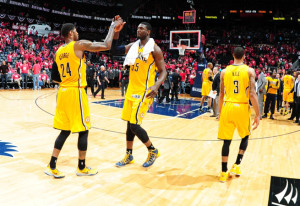 Indiana wavered but will go well to the conference semifinals. Leader of the regular season in the East, the Pacers have struggled until Game 7 to defeat Atlanta. Winner 92-80, Indianapolis franchise has relied on its big heads such as Roy Hibbert (13 pts, 7 rebounds), Lance Stephenson (19 pts , 14 rebounds, 5 wt ) and especially Paul George who has been enormously remarkable with 30 points, 11 rebounds and 3 assists.
Silent for 128 minutes in the series, Roy got out of hibernation at the right time to first stop the 0/ 5 shooting of Indiana and then support Paul George to put the franchise in the right direction with a 10-4. The Hawks submitted a new layer in the wake of Jeff Teague (16 points) and Mike Scott (15 points) and dominate the first act 24-23. In the second quarter time, the Pacers locked their defense and sparkled after a 13-0 with 8 points registered by PG 47-36 at the break.
In trouble, Atlanta tries from behind the arc, Shelvin Mack (13 points ) and Mike Scott each put in two 3-points to reduce the gap that had grown to +17, 71-63. But the men of Frank Vogel did not expect to take holidays so early and suffered 15 points domination. The Hawks abuse with long distance shots unsuccessfully (11/ 44). Georgians must surrender but may be satisfied with having worried the Pacers.
In the next step, teammates of Ian Mahinmi (1 pt , 2 rebounds, 1 br , 2 cts) will have to defy Washington who defeated Chicago.
[youtube]https://www.youtube.com/watch?v=PQzRHPS-nbA[/youtube]