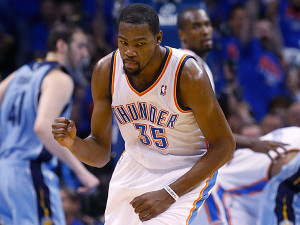 Obliged to go through the Game 7 to hope playing the semifinals in the conference, Oklahoma City has been a little afraid to start before recovering back to take good control of Memphis well driven by duo Durant- Westbrook to validate qualification with victory, 120-109.
Deprived of Zach Randolph, the Grizzlies in the wake of Marc Gasol (6/8 to start the game) erased a 7-0 with a series of 7-20 and take the lead of scoring (18-24). The Thunder is not helped by the loss of ball especially of its leaders, Durant (3 lost) and Westbrook (4 lost). At the end of twelve minutes, Memphis realized their most prolific quarter time of the season, 36-27. But OKC will regain control after a 20-6 (53-50). Kevin Durant was at 21 points with 7/12 in shooting and Oklahoma City joined the halftime to 61-58 with 13 points and 8 assists for Russell Westbrook.
In the second period, the top scorer of the season hurts with long distance shot with a fifth (5/5 ), which allows his side to make a mini break, 71-60. While Gasol (24 points) loses his address, 1/12, the Thunder can count on KD who made a blackened copy of 33 points to 12 /18 and 8 rebounds and Westbrook. The play maker splits his second triple double in the series with 27 points, 10 rebounds and 16 assists (he equaled the franchise record of the number of passes in the playoffs set by Nate McMillan in 1987). Beside Serge Ibaka registered 12 points and 4 rebounds, Reggie Jackson splits 16 points and Caron Butler finished with 15 units.
The Thunder then largely defeated Memphis 120-109 and remains in contention for the succession to the Miami Heat.
[youtube]https://www.youtube.com/watch?v=VMQLSm5xBWA[/youtube]