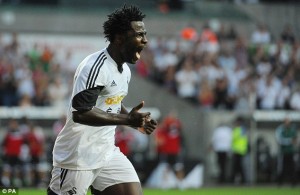 Former player of Vitesse Arnhem, Dutch club where he scored 31 goals in 30 games last season, Wilfried Bony left the Eredivisie to join the Premier League last summer.
Goals scorer that still climbs over days, Wilfried Bony marvels at Swansea. Scorer 16 times in the league times and 5 times in the Europa League, the Ivorian striker sees the big picture and does not want to settle for small clubs.
He now feeds the legitimate ambition to further discover the landing above, namely the Champions League. As Swansea cannot offer him such exposure, the attacker claims to be ready to leave the club only a year after his arrival.
"I want to be part of a bigger club, like any young player. I want to play in the Champions League now. I want to play more European matches, because it's always good to play against big clubs. It is important for me to continue playing well, to have this chance. If the opportunity comes, it will be up to the club to decide. But I am happy here," he told Sky Sports.