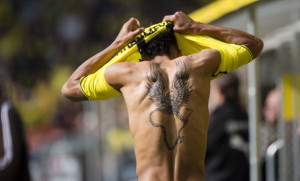 We know! Pierre-Emerick Aubameyang is fond of tattoos and bling bling objects. We informed you since April 26 when he unveiled his new caprice on Twitter.
Dortmund striker therefore got in action as he tattooed on his back a map of Africa on which stands an eagle with spread wings in the wind.
On the map by a star, he clearly indicates his country, Gabon. What do you think? Pretty, scary? Anyway teammate Marco Reus is crazy about it.