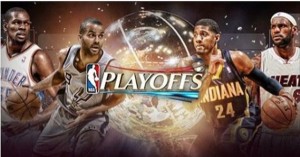 No sooner had the series of the first round completed than franchises still in contention for the NBA championship must attack the semifinals. A second round starting on the night of Monday to Tuesday with two games: Indiana – Washington and an undecided Oklahoma City -LA Clippers.
Double title holder, the Miami Heat will clash with the Brooklyn Nets. King James and his partners have experienced some difficulty with the men of Jason Kidd in the regular season. Are they in danger or will they offer us another sweep? The series starts in the night from Tuesday to Wednesday.
After releasing Houston, Portland of Nicolas Batum stands in the way of another Texans franchise, San Antonio.
The full program
Eastern Conference
(1) Indiana Pacers vs (5) Washington Wizards
Game 1: Wizards vs Pacers, Tuesday, May 6 1:00
Game 2: Wizards vs Pacers, Thursday, May 8 1:00
Game 3: Wizards vs Pacers, Saturday, May 10 2:00
Game 4: Wizards vs Pacers, Monday, May 12 2:00
Game 5: Wizards vs Pacers, Tuesday, May 13 (if necessary)
Game 6: Wizards vs Pacers, Thursday, May 15 (if necessary)
Game 7: Wizards vs Pacers, Sunday, May 18 (if necessary)
(2) Miami Heat vs (6) Brooklyn Nets
Game 1: Heat vs Nets, Wednesday, May 7 1:00
Game 2: Heta vs Nets, Friday, May 9 1:00
Game 3: Nets vs Heat , Sunday, May 11 2:00
Game 4: Nets vs Heat , Tuesday, May 13 2:00
Game 5: Heat vs. Nets, Wednesday, May 14 (if necessary)
Game 6: Nets vs Heat , Friday, May 16 (if necessary)
Game 7: Heat vs Nets, Sunday, May 18 (if necessary)
Western Conference
(1) San Antonio Spurs vs (5 ) Portland Trail Blazers
Game 1: Spurs vs. Blazers, Wednesday, May 7 3:30
Game 2: Spurs vs. Blazers, Friday, May 9 3:30
Game 3: Spurs vs. Blazers , Sunday, May 11 4:30 am
Game 4: Blazers vs Spurs, Tuesday, May 13 , 4:30
Game 5: Spurs vs. Blazers, Wednesday, May 14 (if necessary)
Game 6: Blazers vs Spurs , SAS, Friday, May 16 (if necessary)
Game 7: Spurs vs. Blazers, Monday, May 19 (if necessary)
(2) Oklahoma City Thunder vs (3). L.A. Clippers
Game 1: Thunder vs Clippers, Tuesday, May 6 3:30
Game 2: Thunder vs Clippers, Thursday, May 8 3:30
Game 3: Clippers vs Thunder , Saturday, May 10 4:30
Game 4: Clippers vs Thunder , Sunday, May 11 9:30 p.m.
Game 5: Thunder vs Clippers, Tuesday, May 13 (if necessary)
Game 6: Clippers vs Thunder , Thursday, May 15 (if necessary)
Game 7: Thunder vs Clippers, Sunday, May 18 (if necessary)