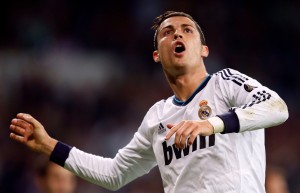 Real Madrid misses a chance to put pressure on Atletico Madrid beaten Sunday at Levante 0-2 in La Liga. The Merengue club was held 2-2 at home by Valencia FC, despite an enormous Cristiano Ronaldo.
Overall, Real Madrid can bite their fingers. A victory was enough for the men Ancelotti to restore parity with Barça (hung by Getafe 2-2 Saturday) and get to only 3-point adrift of the Colchoneros with a game in hand to play Wednesday against Valladolid. Missed.
Though they had the best scoring opportunities early in the game, it's Valencia who opened the scoring by Jérémy Mathieu.
In the second half, Sergio Ramos equalized and puts his team in the game. But behind, Parejo stunned again Diego Lopez. Valencia clings and counteracts Real until the 92nd minute before the high-class gesture of Ronaldo on a Di Maria shot. Final score 2-2.