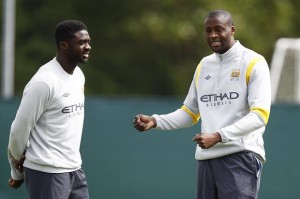 This is one of the championships that still holds spellbound football fans around the world. With two days remaining, the Premier League is still full of suspense. Especially on the title race. If this should be played between Manchester City and Liverpool, difficult to predict the one who will take the upper hand.
A situation which tends nerves in the Touré family. And because the two stars of the family are involved in this struggle for the coronation in England. Just a season ago, Yaya and Kolo evolved together and even won the title in 2012 with Citizens. But since last summer, Kolo left for the Reds and may establish a record of the player who won the Premier League title 3 times in 3 different clubs in England.
"It is currently very difficult. It's amazing how sport can break hearts. Your family is sometimes called upon to make choices. This is currently the case but everyone handles it well. Anyway, if Kolo and Liverpool win, I'll be happy for him. It would be great for him," Yaya told The Independent.
"But every time I want to win. When I lose, it is because the other side is really stronger. Liverpool still has a chance, it's really tight. Our family does not want to choose. They say ' may the best man win'. They know that both teams have the quality so we'll see," said the 2013 Golden Lion.
Meanwhile, the Touré brothers can dance on their song!
[youtube]https://www.youtube.com/watch?v=IwgTSMV7jug[/youtube]