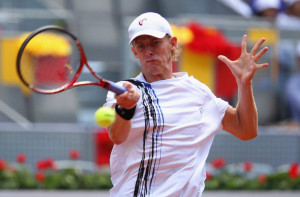 Kevin Anderson has recovered from a first set badly negotiated to defeat Radek Stepanek and qualify for the second round of the Masters 1000 Madrid, 3/6, 6/3, 6/4.
The South African Tuesday gave his first racket-shots on the red surface of the Mutua in the Madrid Open. Broken on his second service by the Czech, he loses the first set after 32 minutes.
A break to lead 5-2 in the next set allows the 19th World player to equalize and therefore play a final round in this first face to face on the ATP circuit with the 41st in the world rankings. After another break on the second service of Stepanek, Anderson raced ahead and put an end to exchanges on his first match shot, 3/6, 6/3, 6/4 in 1 hour 54 minutes.
In the second round, he meets the Czech No.1 Tomas Berdych (6th in the World).