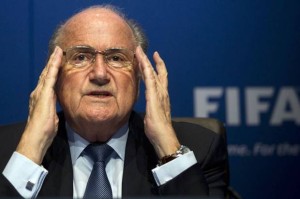 These past few weeks have been particularly agitated by particular cases of racism in Spain, where in one week; two players have been subjected to pseudo- fans. The latest is none other than Pape Quli Diop. The Senegalese of Levante has been insulted by fans of Ateltico Madrid.
After UEFA, FIFA has also condemned these new acts of racism by its president Sepp Blatter. Visiting Cameroon, the head of the world body said he was "angry" about the persistence of racism in stadiums. He also criticized the ineffectiveness of measures to fight it.
"I 'm terribly touched. I 'm not even sad, I get angry now," he assured during the inauguration of the Technical Centre of Excellence of the CAF in Mbankomo. "I am sorry we cannot fight against racism (in football stadiums) and discrimination, especially against racism."
"We should not close stadiums ( …) We must take points or relegate a team," he suggested , noting that it had been recommended last year at the congress of FIFA in Mauritius. "The first time during a context of competition, a commission of discipline and control has the courage to remove points from a team, this (racism) will be over," he assured.