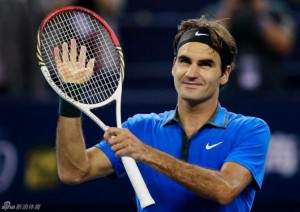 The Mutua Madrid Open loses another crowned head. Triple winner of the Masters 1000 Madrid, Roger Federer (2006, 2009 and 2012) just give up the competition to reach his pregnant wife.
"I decided to withdraw from Madrid to be with my wife Mirka during the next few weeks, very exciting for our family. I apologize to my fans and I hope to be back in Madrid next year," wrote the 4th World player on his Facebook account.
Before the withdrawal of Swiss seeded No. 4, it was the World No. 2 Novak Djokovic who withdrew due to injury.
The withdrawal of Federer is beneficial to the French Gilles that he should faced Wednesday in the second round.
Simon is well qualified for the knockouts in just 10 minutes on the court (note , he qualified for the second round as Benoit Paire gave up at the end of the second game of the first set 2 / 0 ab).