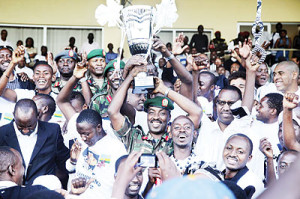 The Rwanda Patriotic Army has won the national football championship. The APR then won their 14th championship of Rwanda, their 11th since 2000.
But it took until the final moments of play before the military club confirms supremacy to the detriment of their great rival, Rayon Sports. The APR outperformed their nearest rival by two points.
The club, if it follows in popularity Sports Center, meets an average of 15,000 spectators in the league at the Amahoro Stadium in Kigali. But it has a very important advantage and is the richest club country although its budget remains a closely kept secret.
Elias Ntaganda holds the record for games played within the team, more than 100 between 1998 and 2010 and the record of goals scored in all competitions, is still owned by another international, Jimmy Gatete (36 goals).