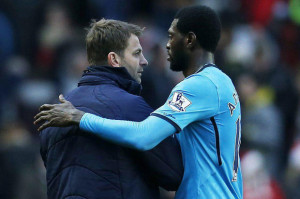 The presence of Tim Sherwood on the bench of Tottenham next season is uncertain. One announces the arrival of a new coach to take the place of the man who succeeded André Villas Boas.
The possible departure of Sherwood is not shared by several players. Emmanuel Adebayor, who enjoyed his confidence, gave his support to the English engineer.
"He treats all players equally. This is a great man. He is a friend and as a former football player, he knows exactly what is involved in this business," said the Togo international.
Rumors predict the arrival of the former coach of Manchester United, David Moyes or Jurgen Klopp.
Spurs will finish this season in 6th place, synonymous with qualification for the Europa League.