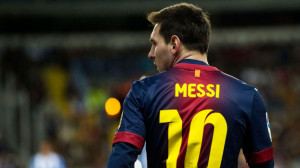 What exactly about discussions on the extension of Lionel Messi in FC Barcelona? Will there be any sticking points? Is he really jealous about the contract of Neymar to the extent of wanting another even juicier? Issues remain. And it is precisely on this topic that returned the newspaper Mundo Deportivo in its edition of the day.
The Spanish daily informs us that a meeting was held on Tuesday afternoon between Jorge Messi , father and agent of Lionel Messi and two leaders of the Catalan club namely Javier Faus and Rossich Antoni. The meeting, described as "very positive", has allowed both parties to review some important issues concerning the project of the club, including the arrival of Luis Enrique next season.
Mundo Deportivo also denies the information that Messi would have made it a condition the extension of his friend José Manuel Pinto and the arrival of Kun Agüero.
In short, yesterday's meeting was not enough to learn more about the contract extension of the Argentine star. Another scheduled Wednesday may drop more notes about this issue, which seems more and more difficult.