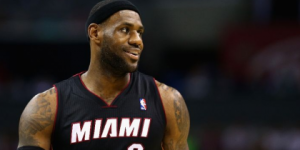 LeBron James continues to mark the history of the NBA. King James who lost his crown of MVP in favor Kevin Durant this season revisited stats page of the playoffs tonight.
Author of 22 points in the Heat win at the expense of the Brooklyn Nets, LeBron James has reached the threshold of 4,000 points in the playoffs, at 29 years 127 days. This makes him the youngest player to score as many points in post-season.
LBJ is therefore better than Kobe Bryant who reached the feat at 30 years and 264 days ahead of Shaquille O'Neal (32 years and 66 days) and Michael Jordan (32 years and 82 days).
8th in the ranking of top post-season scorers with 4013 points, LeBron James became the third player in the history of the NBA playoffs to compile 4,000 points, 900 rebounds and 900 assists.
Kobe Bryant has made 13 appearances, Michael Jordan over 12 appearances while The Chosen One achieves this feat in only 9 participations in playoffs.
[youtube]https://www.youtube.com/watch?v=VlqaR1cBGSc[/youtube]