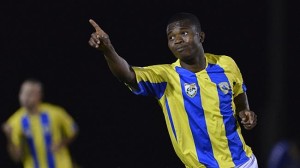 Bankstown Lions Club, a second division team in the suburbs of Sydney, mourns the loss of young striker Kodjo Etonam Adjassou. The Togolese collapsed and died in full match last Saturday.
Aged 24, the player died only ten minutes after the start of the match which opposed his training to Spirit FC at the Stadium of Jensen.
Trainers have tried to revive the body but did not survive. The match was stopped after this unfortunate event.
Kodjo arrived at his new club after playing in Coffs Coast Tigers, led by Leo Braumgartner. Last season, he played in the colors of Berries.
Married with a 4-month daughter, Kodjo had spent several years in the refugee camp in Ghana before joining Australia.
Condolences to the friends and family of @BankstownCityFC striker Kodjo Etonam Adjassou who passed away on Saturday – http://t.co/gp69Ohk1jZ

— Football Australia (@FFA) May 7, 2014
Condolences to the friends and family of @BankstownCityFC striker Kodjo Etonam Adjassou who passed away on Saturday – http://t.co/ViHBri2JJV

— Al_khahaar (@dex_mon) May 7, 2014