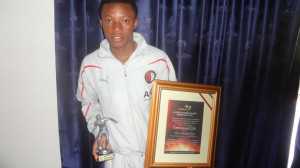 After a first test at Sporting Anderlecht, Emmanuel Oti Essigba is currently having another test at FC Bruges. The young Ghanaian of 17 years could finally sign with the club of Bruges. The International U17 Black Star seems to have convinced Blauw recruiters at Zwart.
According to the Belgian media, Emmanuel Essigba positively surprised officials at the training center of Bruges and could get a contract.
This quick flank player has been trained at the academy settled by Feyenoord in Ghana and was voted best player of his category in his country.