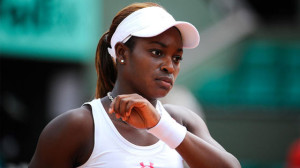 Sloane Stephens fails to achieve a feat at the Mutua Madrid Open in her first face to face against Li Na. After a first set successfully negotiated, the young American (21) bowed to the Chinese experienced (32 years) in three sets, 2/6, 6/3, 6/2.
Second player in the WTA rankings, Li Na gets caught by Stephens who wins the first set in 34 minutes after two breaks to lead 5-2. At the next set, the winner of the Australian Open remains strong on her services and through a break in the second service of the World's 17th returns to 1 set everywhere.
Sloane Stephens loses of input two services in the third inning and is conducted 4 games to 0. She amounts to 4-2 after a break but could not confirm. Li Na ends this first confrontation against the American on the WTA Tour after 120 minutes.
In the quarterfinals, she will cross either Maria Sharapova or Samantha Stosur.