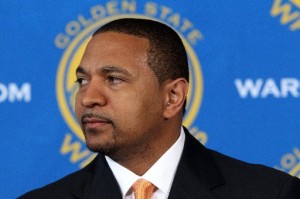 Mark Jackson (49) ejected from the Golden State bench. The best record in the regular season of Warriors ( 51v , 31d, a first since 1994) and their presence in two consecutive seasons in the playoffs were not enough to keep his position. His eventual ouster was the subject that fed the daily of the franchise in California to the point where his leaders like Andre Iguodala and Stephen Curry had left their reservations to defend his cause, ultimately in vain.
"It was a season that was challenging. Perhaps there is no smoke without fire, there were many things that happened but I was not paying attention, commented Mark Jackson visibly surprised by his dismissal. I had a team to lead. I do not want to take anything away from all that has happened here for three years. It was amazing to live."
Names such as Steve Kerr (tipped at New York) , Stan Van Gundy and Lionel Hollins are cited to take the reins of the franchise.
Marck Jackson is the third coach to leave the bench. Before him, the New York Knicks had fired Mike Woodson and Los Angeles Lakers parted with Mike D' Antoni.