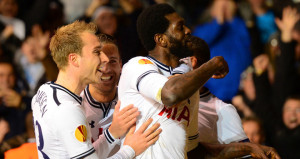 Emmanuel Adebayor held promise. The Togolese striker has starred during the last game of the season with Tottenham. If the Spurs have imposed themselves 3-0 on Aston Villa, they can say thank you to their star center-forward. He is involved in two of the three goals of his team.
Everything happened in the first period. Paulinho opened the scoring in the 15th minute of play on a misalignment of the opposing defense, and under pressure from Emmanuel Adebayor, Baker scores against his camp (38th). Before the break, the former Gunner converted a penalty to score his 11th goal of the season in the Premier League over 21 games. Final score 3-0.
With this success, Tottenham is qualified for the Europa League as they rank 6th on the league table especially ahead of Manchester United.