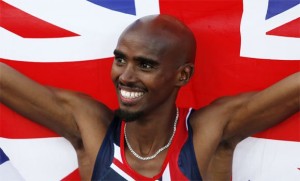 The Commonwealth Games will be held in July in Glasgow. And Mo Farah will present at the 20th edition of the multi-sport event where athletes meet the best athletes from the Commonwealth member Nations.
The British Somali-born athlete announced Tuesday on his Twitter account his presence at these games. The double Olympic champion in the 5000m and 10000m in London in 2012 did not specify on which category he will align.
After contesting his first marathon in April in London, Mo Farah will attend the meeting of the Anglo-Saxon countries for the second time in his career. In 2006, he took the ninth place in the 5000m in Melbourne. In 2010, however, in the last edition held in Delhi, he had forfeited.