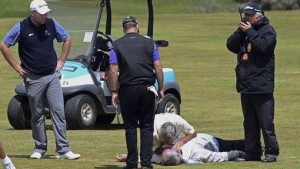 The pro golf world is in shock.
The Portuguese golf Open was overshadowed by the death of Ian MacGregor, the Zimbabwean cart aged just 52 years old working for the Scottish golfer Alastair Forsyth.
He was struck by a heart attack.
The Portuguese organization of Madeira Island Open has also been subject to a lively debate since the competition was not interrupted despite this tragedy.
"I chose to continue to play because 'Mac' wanted it," said the Scottish golfer.
The reactions are numerous, especially on Twitter: "How can we let the players continue after this accident?". They went on the game after a minute of silence. What a terrible attitude."
Pablo Larrazabal was sharing the same viewpoint as his colleague. "Life is more important than golf."
Zim Mac. A familiar smiling face on the Tour. Will be missed by all who knew him. Passed away doing what he loved. pic.twitter.com/04qyv6nXIw

— Tony Johnstone (@TonyJohnstone56) May 11, 2014